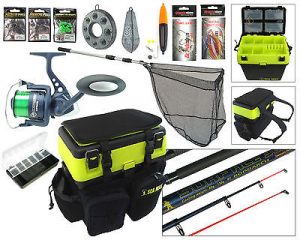 Want to have a go at sea fishing or just fancy having a go for some fresh mackerel while your on holiday?  This complete sea fishing kit is extremely good value and is an ideal beginners kit or even perfect for use as a holiday kit.
You can find it on eBay here http://ebay.to/2p0pFxD
There is a fantastic range of tackle that you will receive and here is the list of what you will get…
Rod Spec:
• 10ft Surf Ace Telescopic beach & pier rod
• Ceramic lined stainless steel eyes
• Closed cell neoprene handle. 26″ Long for better casting
• Quick screw adjustable reel mount
• Closed length of only 76cm
• 2oz – 6oz Casting weight (80g – 150g)
• Hi visibility sensitive tip section for better bite detection
• Fibreglass construction
• Weights only 275gms!
• Removable protective butt cap for tackle storage.
Reel Spec:
• HUNTER PRO® HP60S Reel
• Complete with 15lb line
• Line keeper
• Lightweight & Strong Graphite Body
• Midnight Blue Colour
• Left or right hand folding balanced handle (interchangable)
• Silent anti-reverse
• Precision engineered 5.1:1 gearing
• Precision 'Anti-Twist' line roller
• Deep graphite spool
• Corrosion Resistant
• Large 'Sure Grip' Rubber Handle
• Balanced Rotor
• Adjustable Front Drag
• Supplied in colour box with parts manual included
• Weight: 360g
A very capable sea reel which offers great quality & value.
Line Capacity:
• 10Lbs – 275 Yards / 0.35mm – 180 Metres
• 12Lbs – 220 Yards / 0.40mm – 140 Metres
• 15Lbs – 160 Yards / 0.50mm – 100 Metres
Tackle Spec:
• SEA MAX© Seat & tackle box including ruck sack converter
• Folding telescopic landing net
• Cantilever tackle box
• 4oz Grip weight
• 3oz Aquapeedo weight
• Pre tied Mackerel feathers with hooks
• Pre tied Pennel rig with hooks
• Ansum sea float set with hook, weight & beads
• 1 Packet of sea swwivels. 1 Packet of sea swivel clips(10pc in each)
• 1 Packet of rig beads