Whether you are a kayak angler already or looking to get your first fishing kayak, Galaxy Kayak's are an established and trusted brand within the industry.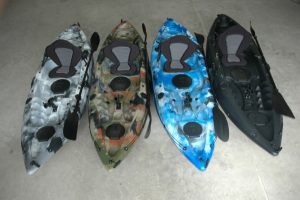 Get yours via this eBay link NOW – http://ebay.to/2oFxfMw
All of their Tandem and Single Galaxy Cruz kayaks have been fitted with complete safety ropes so should you come unattached from your kayak you have something close by to hold on to, they have also equipped their kayaks to take anchor cleats and have fittings for an outboard motor (purchased separately).  They continue to strive and innovate.
Galaxy Kayaks are leading innovators for sit on top Fishing kayaks in Europe and have a dedicated team of competition fisherman all across Europe. Their teams across Europe have a large input into the development of the kayaks and they are designed and built with fishermen in mind.
There are many "one man bands" setting up, selling kayaks and reporting they are 7mm thick, will take 150kg, they're the best, etc, etc, specially designed for this or that. In truth, they know little, to nothing about kayaks, buoyancy or water displacement! They are buying an off the shelf product and hamming it up, furthermore they are advertising these "special better kayaks" as fishing kayaks, yet they do not even have a paddle park/keeper to store the paddle whilst fishing, so what on earth you do with your paddle whilst your fishing is beyond us! with over 25,000 kayaks sold to date across Europe, they have vast experience in this area.
This specially designed sit-on Fishing Package has,
Robust super stable Kayak
New 2016 model
Live bait well
Free kayak trolley
CE Approved 
Full safety rope around the whole kayak for added safety
2 piece lightweight Sport Paddle not the cheap usual riveted aluminium paddle
Luxury Padded Back Rest Seat complete with rear storage
4 Flush mounted rod holders
1 x Pro swivel centrally mounted on ball joint system far superior than the rest
all stainless steel fittings to marine grade
5mm thick polyethylene
Free front hatch 8″ tackle box
side handles
2 paddle parks (unlike others that have none)
2 locking flip hatches
6 scupper plugs complete with convenient easy pull handles (included)
large rear storage complete with bungee
Moulded in rear screw inserts for taking an outboard motor
Length 283cm Width 82cm Height 35cm
Weight 22kg
Super cool matt finish (not all shiny!)
Get yours via this eBay link NOW – http://ebay.to/2oFxfMw