Whether you are a kayak angler already or looking to get your first fishing kayak, Galaxy Kayak's are an established and trusted brand within the industry.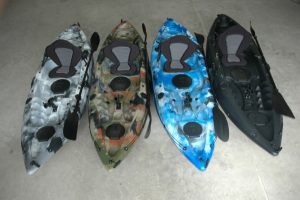 Get yours via this eBay link NOW – http://ebay.to/2oFxfMw
All of their Tandem and Single Galaxy Cruz kayaks have been fitted with complete safety ropes so should you come unattached from your kayak you have something close by to hold on to, they have also equipped their kayaks to take anchor cleats and have fittings for an outboard motor (purchased separately).  They continue to strive and innovate.
Galaxy Kayaks are leading innovators for sit on top Fishing kayaks in Europe and have a dedicated team of competition fisherman all across Europe. Their teams across Europe have a large input into the development of the kayaks and they are designed and built with fishermen in mind.
There are many "one man bands" setting up, selling kayaks and reporting they are 7mm thick, will take 150kg, they're the best, etc, etc, specially designed for this or that. In truth, they know little, to nothing about kayaks, buoyancy or water displacement! They are buying an off the shelf product and hamming it up, furthermore they are advertising these "special better kayaks" as fishing kayaks, yet they do not even have a paddle park/keeper to store the paddle whilst fishing, so what on earth you do with your paddle whilst your fishing is beyond us! with over 25,000 kayaks sold to date across Europe, they have vast experience in this area.
This specially designed sit-on Fishing Package has,
Robust super stable Kayak
New 2016 model
Live bait well
Free kayak trolley
CE Approved 
Full safety rope around the whole kayak for added safety
2 piece lightweight Sport Paddle not the cheap usual riveted aluminium paddle
Luxury Padded Back Rest Seat complete with rear storage
4 Flush mounted rod holders
1 x Pro swivel centrally mounted on ball joint system far superior than the rest
all stainless steel fittings to marine grade
5mm thick polyethylene
Free front hatch 8″ tackle box
side handles
2 paddle parks (unlike others that have none)
2 locking flip hatches
6 scupper plugs complete with convenient easy pull handles (included)
large rear storage complete with bungee
Moulded in rear screw inserts for taking an outboard motor
Length 283cm Width 82cm Height 35cm
Weight 22kg
Super cool matt finish (not all shiny!)
Get yours via this eBay link NOW – http://ebay.to/2oFxfMw
Zacro Universal Waterproof Pouch with Waist Strap (2 Pack)
as of 18th January 2021 7:18 pm
Features
Note: please PRE-TEST the pouch BEFORE EACH USE to make sure it is waterproof, and do not dive with this pouch to depth of more than 5 meters.
Updated with Higher Quality: Made of durable and soft PVC material with a higher density. Not easy to deformation, hermetically and securely protect your devices and documents even from water vapor.
Powerful Waterproof Ability: Waterproof IPX8, the blue one with three zipper locks to seal, and the black one with double zipper locks to seal ,no way for water and dust leaking in when you are Boating, Kayaking, Fishing, Hiking, Surfing, Camping and more.
Adjustable Belt: The waist strap can be adjusted through the releasable buckle to an ideal length which fits comfortably around the waist.
Worry-free Warranty: Buy with confidence with our 45-day money back and 24-month warranty.
VIMOV Fishing Lanyard (6 Pack), Multi-Colored Safety Rope Wire Steel for Securing Pliers, Lip Grips, Fish Tackle Tool in Boating, Angling, Kayak, Wading, Camping and Hunting
as of 18th January 2021 7:18 pm
Features
★ Internal Stainless Steel Wire as raw material, the coil lanyard is highly stretchable and durable. Your personal belongings will be hanged firmly with you
★ Convenient and Portable: The fishing lanyard steel cable is lightweight and flexible. Anglers can fish freely without worrying about that the pliers, scissors, keys, whistle and other tools losing or falling into the water
★ Normal Length: 12Inch; Maximum extension length: 55Inch
★ Aluminium alloy carabiner and iron ring in the gear tether can tightly attach the outdoor gears to your belt
★ Widely used in fishing, hunting, camping, sailing, triathlons, cross country, scuba diving, canoeing, surfing, snorkeling, skiing, rafting, rowing, hiking, mountaineering and other outdoor sports
[2 Pack] ProCase Waterproof Phone Case Dry Bag Pouch, for iPhone SE, 11 Pro Max, Xs Max, XR, X, 8,7 Plus, 6S Plus, Galaxy S20 Ultra S10 Plus S9 S8 / Note10 9 8 6 5, Pixel 4 XL 3 2 -White/Black
as of 18th January 2021 7:18 pm
Features
2 Pack Universal waterproof phone case dry bag with white/black color combinations, fits all smartphones up to 6.9" diagonal size (Certain big screen phones need to remove protective case); Credit card wallet money waterproof dry bag for beach, fishing, swimming, boating, kayaking, snorkeling and water park activities
Innovative design on the side of the case allows users to access the side buttons of the phone easily; Clear Window on both front and back sides, perfect for taking pictures, videos and checking emails
100 feet IPX8 Certified waterproof; Offers waterproof / snowproof / dirtproof protection for your device while maintaining full touch screen functionality
Compatible with devices up to 85mm x 170mm (clear window 82mm x 162mm); Comes with a lanyard for convenient carrying
Features a simple snap and lock access, easy to keep out water, snow, dust, sand, and dirt
Railblaza 03400111 StarPort Mount (Pack of 2) - Black
3 new from £23.00
Free shipping
as of 18th January 2021 7:18 pm
Features
StarPort can be horizontally or vertically mounted in minutes
Low profile surface mount & minimal intrusion depth when recess mounting
Includes a stylish locking slide for securing accessories firmly in place
Gasket and bung reduces water ingress.
2 Waterproof Cellphone Dry Bag Case & 1 Waterproof Pouch Dry Bag Case Waist Strap with Waist/Shoulder Strap Pack, Black(2 Case + 1 Pouch)
as of 18th January 2021 7:18 pm
Features
POWERFUL Waterproof Ability - Triple top sealing zipper lock along with additional velcro flap, providing Waterproof IP68 Standard protection for your phone, camera and other small valuables from Water, Sand, Snow, Dust and Dirt. This is your perfect choice for pools, beach, fishing, swimming, boating, kayaking, snorkeling and water park activities. Please DO PRE- TEST the pouch BEFORE EACH USE to make sure it is waterproof.
GET 2 Waterproof Dry Bag & 1 Waterproof Pouch Together - you can enjoy operating your cellphone in the phone case, capturing pictures and videos while your phone is protected. You also have extra spacious to store several items like cash, credit cards, passports, important pictures, Memory cards, ID cards, hotel room key, sunglasses, earphones, sunscreen, snacks, and other must-have items which fits the waist pouch.
EXTRA Long & Adjustable Straps: this black waterproof waist dry bag has fully long and adjustable carrying straps (fits sizes: 33.5" - 47.5"), long enough to fit you comfortably as a waist pack, cross-body bag or shoulder bag.
SIZE of Cellphone Dry Bag - L*W: 8.67" X 5.9"(220*150mm) fits almost all smart phones such as iPhone Xs Max XR X 8 7 6 6p, Galaxy S10 S9 S8/Note 9 up to 6.5"and plenty of room for other items. Offers waterproof / snow-proof / dirt-proof protection for your device while maintaining full touch screen functionality.
100% CUSTOMER SATISFACTION - Free product unlimited warranty is offered to our customers, so no more wonder if you are risking your money. If for any reason you are not 100% satisfied with this fishing floats or swimming accessories, email us for any question. Replacement or refund will be provided for your preference - no questions asked.