If you're a fan of handcrafted fishing products it is well worth having a look at these handmade fishing floats by Ian Lewis.  His eBay shop is available here –> http://ebay.to/2sgUgpc although we will have a closer look at a couple of our favourite ones in a minute.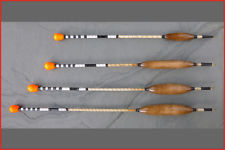 The first float that we will have a look at is the handmade wind-beater floats and are made from balsa and cane with a cocking weight ranging between 1ssg and 4ssg.  These floats are designed to be sunk mainly below the waterline to counter any wind, they also have a large bulbous sight tip which allows you to see it better in choppy conditions.  A superb float for bream or tench and for use on rivers, lakes and long range fishing.  Find it on eBay here –> http://ebay.to/2srIbxO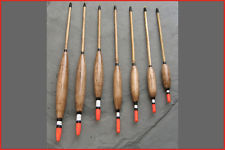 The next float is the Avon fishing float which is made from balsa with a cane stem and is based on the original design by ex world champion fisherman Billy Lane, the floats have a cocking weight ranging from 3bb through to 4ssg.  The tip colour is red but you can ask for the tip to be made a different colour.  These floats were originally designed as river floats but make a good general purpose float.  They are available on eBay here –> http://ebay.to/2shlrCe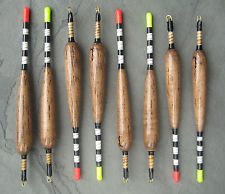 The last ready made float we'd like to draw your attention to is the Carp Margin Dart, this is a good all round float for rivers and lakes.  The float is designed to detect delicate bites and lift bites in the margins and has a cocking weight of either 3bb or 4bb, the float is made from a balsa body on a cane stem and is sealed with a custom varnish that is tougher than yacht varnish but will not discolour over time like yacht varnish will.  Available on eBay here –> http://ebay.to/2sryvTU
You can talk to Ian via his facebook page "Handmade Fishing Floats by Ian Lewis" regarding custom designs.  As one of the last full time professional float makers Ian keeps the tradition alive and regularly takes on special commissions.  

Our website content manager Anthony has had several custom pieces of work done although one of the favourite pieces that he owns is this special design float with a quails egg body.  Despite it's frail look due to being an egg shell, it is a surprisingly strong float and has withstood several carp battles.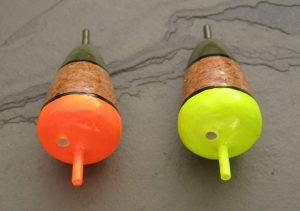 The last float is another special commission float and is a 5g cork inline float designed for deadbait fishing for zander on the canal system.  It works really well and you can have it with an optional hole for putting a chemical light in for night fishing.  It does however need to be ordered via Ian's facebook page as it isn't on his eBay shop.