Making your own homemade method mix can be a brilliant way of matching your feed to your bait. If you don't want to try making your own there are a lot of very good high quality ready mixed method mixes out there. It is a blessing and a curse that there are so many great products readily available to us in modern fishing, it is a blessing because there is a huge variety of quality Bait available to use but at the same time it is making some of the old skills of making your own baits, groundbaits, etc disappear into the deep and distant past.
It can be very rewarding making your own baits and the feeling when you catch a fish on a bait you've made yourself or a groundbait you've made that has attracted the fish to your swim is a real buzz. Making a homemade method mix doesn't need to be difficult or even need that many ingredients but what is the difference between a groundbait and a method mix? The answer is not a lot too be honest in fact some groundbait scan actually be used as a method mix, the main difference is that a method mix is designed to be a stiffer mix than a standard groundbait and will hold a certain shape longer and break down slower.
The way a method mix works is that you put some of the the method mix onto a specially designed weighted method feeder, then place your bait on top of the packed method mix, place a bit more method mix on the top of your bait, pack it all down tightly and the cast out to your swim. The fish will peck away at the method mix until eventually your bait will be released (you can use any bait but pop up baits on a short hair work best) at which point it will hopefully attract an instant response off one of the fish and they will take your bait and your rod will hoop round.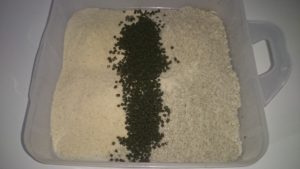 So that is the idea behind a method mix and now let's have a look at a basic mix. The first ingredient is simple breadcrumb, the reason behind using this is that it is a cheap, bulking ingredient that binds well and that fish are naturally attracted too. Use around 50% breadcrumb in most mixes.
The next ingredient is 2mm pellets now there are a a huge variety of pellets available from high oil halibut pellets to high protein green
lipped mussel pellets the choice really is up to you. You could even add a few floating pellets into the mix to give the fish something to chase when it gets released from the mix. Use around 10% pellets in your mix.
Finally use 40% of groundbait or if you make your own boilies you could use your base mix again the choice is down to you.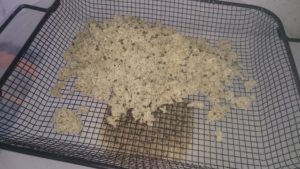 You now need to mix it all together with water, oils, liquid attractors a good liquid mix to use for a kg of method mix is 450ml mineral water, 30ml corn steep liquor, 20ml liquid betaine. Mix all the liquids together and add a tsp of either FeedStimulants summer or winter amino compound to give it that extra bit of attraction.  Run the mix through a maggot riddle to smooth the mix out as it helps the mix to stick together better.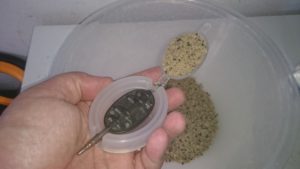 You may not need to use all of the liquid but remember unlike groundbait you want this mix to stick and clump together so that it mounds around the method feeder which means you want it to be slightly more stodgy than you would make groundbait.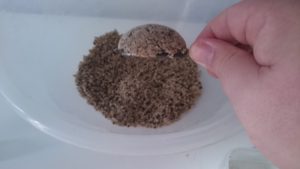 That's it all done, you will hopefully now have a homemade method mix that will be pulling those fish into your swim for you.
starmerbaits Flavours: concentrated/Krill 50ml
as of 15th January 2021 12:04 pm
Features
1000/1 strength.
Over 30 years of proven effectiveness of catching carp.
PVA and spod friendly.
Long lasting for great results.
Mystic Moments | Peppermint Arvensis Essential Oil - 100ml - 100% Pure
6 new from £6.95
1 used from £6.81
Free shipping
as of 15th January 2021 12:04 pm
Features
Peppermint Arvensis Essential Oil - 100ml - 100% Pure
Botanical Name: Mentha Arvensis
Colour: Pale off white to light yellow
Aromatic Scent: Peppermint has a sharp, penetrating mint scent base on its high menthol content.
Blends With: Citrus, earthy, herby, minty and woodsy oils.
starmerbaits Dye: Yellow | Size: 50g
as of 15th January 2021 12:04 pm
Features
Strong and long lasting.
For use in base mixes, methods & ground baits.
For carp or coarse baits.
Pure dyes for vivid colours.
Water soluble for easy mixing
18 Braid Carp Fishing Hair Rigs Size 6,8,10 6 Of Each Sizes
5 new from £7.95
as of 15th January 2021 12:04 pm
Features
18x braid hair rigs in sizes 6, 8 and 10.
6 rigs of each size. An ideal pack to throw in your tackle bag.
Pre-tied and ready to go, no hand-tying needed.
Barbless hooks. Brand: NGT
SHADDOCK 140pcs/box Fishing Swivel Snaps Kit Include Ball Bearing Swivel Snap Barrel 3 Way Triple Swivel Connector Clips Fishing Beads Fishing Accessories Set
2 new from £15.99
Free shipping
as of 15th January 2021 12:04 pm
Features
★POCKET FISHING SET,140pcs Swivels + snap + beads ,7 Different Fishing Accessories Set.All fishing tackles are sorted in box, making it easy to find and easy to use
★HEAVY DETY MATERIAL:,SHADDOCK Fishing swivel snaps are made of excellent metal material with electroplating treatment, high strength, corrosion resistance, anti- shock, corrosion resistance and anti- rust
★QUICK CONNECT,The connector snap can quickly connect a variety of fishing hooks, explosion hooks, easy to use for sea rod fishing method, string hook line group
★ RELIABLE,Excellent corrosion resistance, abrasion resistance and shock resistance. Approved for using in saltwater, high speed trolling, jigging, offshore fishing.
★ MULI-PURPOSE,Different types of fishing swivels snap clips can meet several fishing needs