How many of you carry huge bottles of water with you when you go fishing for tea, coffee or cooking?  Anthony has been fishing for nearly thirty years and plays around with bushcraft too, quite often ending up combining his two favourite hobbies.
Now you may wonder what bushcraft has got to do with fishing, especially in the U.K. where we have a strong practice of catch and release for our freshwater coarse species.  The answer is filtration!!
Whilst searching for a solution to carrying lots of heavy water Anthony started to look at water filters and found that there were several on the market that produced safe drinking water to the level that they are used in countries around the world where fresh water isn't available.
The device that he ended up getting was a Sawyer SP128 Mini Filter System which weighed only 65 grams and fitted in the palm of his hand so easily packed away into his tackle box.  The kit includes a water filter, drinking straw, cleaning syringe and a 1.5 litre collapsable drinking pouch. The filter itself is guaranteed to filter 100,000 gallons of water and more importantly to remove 99.99999% of harmful bacteria due to its 0.1 micron hollow fibre membrane filter.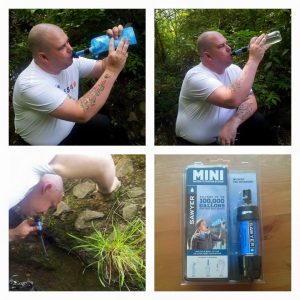 If you lose the pouch you can buy a replacement however the guys at Sawyer have designed the opening of the filter to screw onto most standard threaded bottles, you can also attach the straw and drink directly through the filter from the source.  Anthony Filled the pouch with water from one of his local streams and started filtering and drinking half a pint every day to see what would happen (disclaimer, do this at your own risk). After one week he was still fine with no side effects and the water tasted delicious.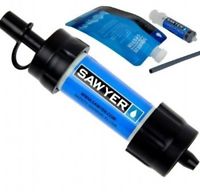 You can use the pouch and filter to squeeze fresh filtered lake water straight into your kettle or saucepan and because you are going to boil it you are making it even safer still as boiling is also a form of filtration.  These can be a fantastic addition to any tackle box and make carrying huge bottles of water a thing of the past.
Get yours via this eBay link –> http://ebay.to/2pWYTWZ