Lots of people like the idea of making their own pop up but there are very few detailed instructions out there to help, most of the time the instructions say make up your liquids and just keep adding pop up mix until it's the right consistency.
In this article we would like to give you slightly more accurate instructions and a general recipe that you can use with most powders, additives and flavourings and whats more you don't even need to use raw egg so the risk of salmonella is zero.
The first thing to show you is the general recipe which is…
80g Pop Up Mix (Anthony Favour's the FeedStimulant Milk Protein Pop Up Mix but it will work with any pop up mix)
20g Powdered Ingredients of your choice such as a base mix or additive like green lipped mussel)
12g Whole Egg Powder
5g Egg Albumin
40ml Liquid Ingredients of your choice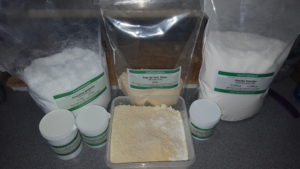 So that is general recipe, now it's time to make your pop ups.
The first thing to do is mix all of your dry ingredients together in a suitable airtight container, the reason you want it airtight is so that you can give the ingredients a really good shake to make sure they are mixed together thoroughly.
Once you have mixed all of the dry ingredients together, set them to one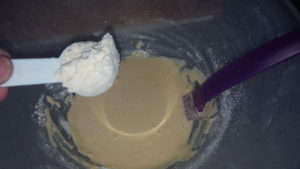 side and mix all of your wet ingredients together in a large mixing bowl.
Slowly add the dry ingredients a bit at a time to the wet ingredients making sure to give them a good stir each time to mix the two together.
Keep adding the dry ingredients until they are all mixed together and you should find that you have a nice doughball that is slightly damp to the touch but that does not stick to your hands.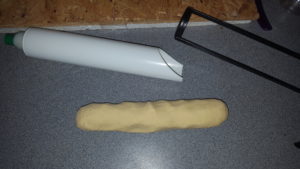 If you have one put your pop up dough into a Gardner Sausage Gun (on eBay here) and push out your pop up mix sausages.
Place the sausages into/onto a rolling table and roll out into balls, if you want dumbbells use a nozzle two sizes smaller than the rolling table for the sausages.
you can make multicoloured pop ups very easily as well if you prefer, simply make two batches of pop up mix making them different colours and then either rolling small sausages and placing them around the outside of the main sausage or putting the two large sausages together and simply squash them into the sausage gun.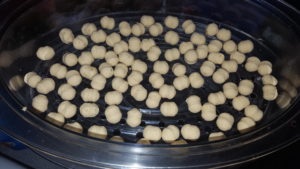 You now have two choices you can either boil a large saucepan of water and place about 30 pop ups at a time and boil them for 60-90 seconds or you can use a steamer to steam your pop ups.  If you are using a steamer you will need to steam them for 10 minutes.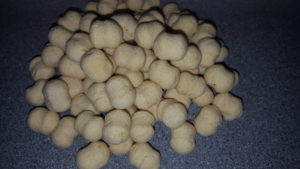 Once you have steamed or boiled your pop ups allow them to air dry for 5-7 days before putting them into suitable containers ready for use.
Due to the bait preservative in the mix these pop ups will last as shelf life baits for a good 8-12 months.