There are so many different stoves out there but one that stands out for us is the Kelly Kettle, they are made in Britain and are made to very high quality standards.  You may have seen these superb natural fuel kettles being used by the likes of Chris Yates on a Passion for Angling.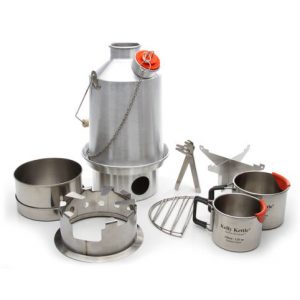 Something just seems magical about these good old fashioned kettles and with the addition of the cook kit you can now cook food as well as make a stunning hot drink of tea or coffee.
We don't know what it is but the taste of a drink made from one of these kettles is absolutely delicious, the smell of the burning natural fuel brings a relaxing and nostalgic atmosphere to your swim.
The great thing about these stoves is you are very unlikely to run out of fuel as you can usually find some dry natural fuel such as pine cones, twigs, etc all around you.
The pictured stove is the scout 1.2l with all the accessories and can be found on the Kelly Kettle ebay shop here http://ebay.to/2ovvGB5 or if your after a different size you can check out their full range in their eBay shop which is here http://ebay.to/2nV0pVk
Also Available on Amazon