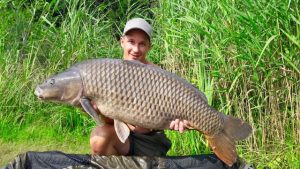 On his first trip out using Solar Tackle's The Originals Red Herring boilies, Austrian-based Solar field tester Admir Gusic has landed 11 carp over 22lb (10kg) topped by this common of 57lb 10oz (26.22kg).
Incredibly, Admir only fished for a single day, using a double 15mm Red Herring bottom bait presented over a bed of matching freebies.
Solar Tackle's The Originals range, including the Red Herring, will be launched to the public at the end of August.