Achieving The Unthinkable
24 hours on a tough, 10-hectare gravel pit has seen Solar Tackle team member Ignace de Roeck achieve the unthinkable.  Not only did he land 6 carp from this low-stock venue, but included in that haul were two thirties and one of the lake's main targets, a 42lb+ original common called Inez.
The Originals Club Mix boilies and a well thought-out plan of attack helped Ignace on this red-letter session, as he explains:
"This time I planned an overnighter on one of my syndicate waters, which I've been a member of since 2016.  The lake is a 10-hectare, deep gravel pit, situated somewhere in Flanders Belgium.  I didn't manage to get there very often last year, but the few trip I did manage helped to widen my knowledge of the place.
"The rules are quite simple here, almost everything is allowed, such as using boats and pre-baiting, which gives a range of possibilities that I'm not used to from my other waters.  The topography is rather monotonous with virtually no variation, it's just a very deep lake, with depths to more than 12 meters, with shallow edges.  As you could imagine all the action comes from the margins.
"The plan that I had in mind was the same tactic I used last year, on the best session I had. Most of the anglers use boats, and so I chose the opposite approach.  The big advantage of using boats is to increase your fishing area, reaching spots you can't cast to, but in this venue I prefer to choose a swim where I can cast my rods out.  At first, it causes less disturbance, and secondly because of the direction of my lines.  I want them to follow the bottom contours nicely.  I do believe the way your line cuts through the swim from the rod to the fishing spot is a crucial fact in whether you catch or not.
"This  syndicate has the reputation of not being an easy water.  The stock count is somewhere around 70 carp with a few originals that are still alive.  Some fish manage to disappear for years before being caught again and that makes the adventure even more interesting.
"The tactics that I had in mind was to go a day in advance with my marker rod to pin point the exact spots to drop my rigs.  Once the spots were marked I baited each with couple of kilos of Solar's The Originals Club Mix boilies.  The next morning, when I arrived at the syndicate I saw that no other anglers, so I knew that my pre-baited swim would be free, which was a big relief.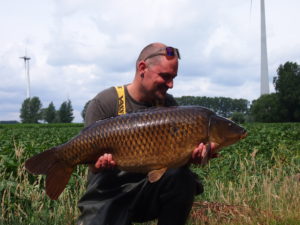 "The first thing that I always do is to spread some freebees over the spots to keep the present carp feeding, if there are any there.  nWith two rods in position I was just getting ready to cast out the third rod when the middle rod produced a bite. Completely stunned that it had happen so quickly I picked up the rod. After a fierce battle I managed to land a long, brown 32lb common.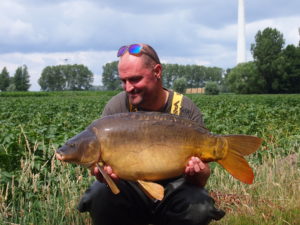 "With all the rods now in position, exactly 30 minutes later the same rod screamed for attention again, a 25lb mirror being the result this time.
After returning the carp I noticed that my unhooking mat was full of partly digested Club Mix bits and pieces.
It is clear that the fish are feeding well on the baits.
"Looking very promising, thinking by myself that anything could happen now.  To cut a long story short, in the late afternoon 2 more fish came along.  A lovely young 25lb common and a stunning looking 37lb mirror (After the session I found out that this mirror had been on the 'missing list' for several years).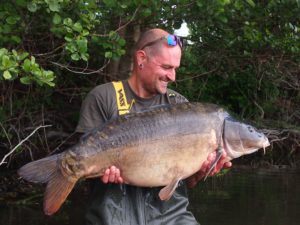 "All where caught one a simple snowman rig coupled with a Stronghold 101 size 4 hook combined with a Dairy Cream pop up.  The rest of the evening and night remained quiet.  I was fully expecting a bite in the evening, but instead nothing happened.  The one thing that did happen was that it rained non-stop.
"Sitting under the brolly while drinking my coffee, I was watching the water for signs of carp.  Out of the blue my receiver came alive.  Finally I was back in action and soon a yellow colored mirror slid over the net cord. With a weight just under the 30lb mark I was more than pleased.  After returning my fifth carp I decided it was time to pack up.  I always find it difficult to pick which rod to wind in first, especially in those circumstance were you'll never know if there's going to be a last minute take.
"The decision was made, my last producing rod stayed on the P1 euro rod pod. Believe it or not when I was ready to reel the rod in, the titanium indicator smacked against the rod blank.  In poker terms they call it 'River Luck'.
When lifting the rod I felt immediately that it was a good fish.  As the carp turned for the first time on the surface I caught a glimpse of my opponent.  A massive common was on the other end. Shaking her head for the last time she was ready for the net.
Carrying her to the unhooking mat I had a smile from ear to ear.  It was one of the few originals.  A carp called Inez and with a weight of 42lb+ I was over the moon. She is one of the reasons anglers join this lake.
"Looking back it was again an exceptional overnighter which rarely occurs on this water."
Intex Seahawk Inflatable Boat Set, 2-Person Boat Set with Oars + Inflator
2 new from £65.45
Free shipping
as of 22nd November 2020 7:12 pm
Features
The boat measures approximately 93in x 45in x 16in (236cm x 114cm x 41cm)
Seahawk 2 is designed to hold 2 people and can hold a maximum capacity of 440lbs (200kg)
The boat includes: 2 x 48in oars and a high output pump (model 68612).
Two fishing rod holders and grab handles on the bow.
NMMA certified, GS and TUV
Times Spectra Extreme Braid Braided Fishing Line 10LB Test 100m Army Green
1 new from £5.98
Free shipping
as of 22nd November 2020 7:12 pm
Features
Ultra-strong, ultimate strength: this braided fishing line is composed of 4 strands Ultra High Molecular Weight Polyethylene Fiber(HHMWPE), manufactured to the highest quality standards
The advanced braid fishing wire construction boasts highly sensitivity and zero stretch that detects light bites and has low memory for outstanding castability and handling, and the fishing string holds up tight allow you to easily tie a more solid knot
This braided fishing thread are superior abrasion resistance, ultra sensitive with near zero stretch, low memory and thin diameter for easy casting and handling
The extra-small diameter and updated coating tech with color protection help color fade less and keep it hidden from fish in the long term
Perfect applicatable for any situation in saltwater and freshwater, sea fishing, lake fishing, ice fishing etc
SeaKnight Monster W8 Braided Lines 8 Strands Weaves 500M/547Yards Super Smooth PE Braided Multifilament Fishing Lines for Sea Fishing Green 50LB
2 new from £16.28
Free shipping
as of 22nd November 2020 7:12 pm
Features
STRONG KNOT STRENGTH – 8 strands braided PE lines allow you to easily tie a more solid knot; you can even tie an improved clinch knot.UHMWPE fiber gives it extremely strong power.Advanced wide-angle technology makes the line more round and aviod tangle.
SMALLER DIAMETER – Upgrade fishing performance, high roundness, thinner diameter and nearly zero water absorption reduce the resistance in sinking water when you use sinking lures.
ULTRA-HIGH SENSITIVITY & ZERO STRETCH – No strech, superb sensitivity -instant feeling for strikes. High toughness and knot strength give it better performance in kinds of fishing environment.
GREATER ABRASION RESISTANCE – Advanced membrane treatment greatly improves smoothnees.Reduce the friction between the line and the rod guide ring, casting wind resistance and abrasion resistance extend its' using lifetime and casting distance.
LOW MEMORY – Helps you achieve a better, farther casts, less chance of wind knots.High density processing technology and improved color fastness has a better performance in avoiding twisting, loosing and fading.