Family life is busy. As an avid Angler I found it frustrating that I couldn't get in as much fishing as I would have liked but nonetheless still love spending time with the family. I couldn't wait for the day Bailey was old enough to come along with me and really enjoy it rather than getting bored after 5 minutes.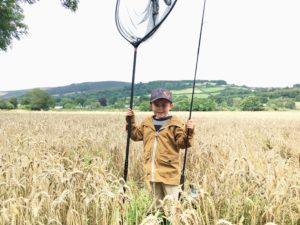 For the last few weeks I've been looking for an opportunity to get him out to the river I used to fish 8 years ago where I bagged my first Grayling, What an introduction to Angling it would be for Bailey to bag a Lady of the Stream on his first freshwater trip.
We got up early 
Saturday
 morning and headed to the tackle shop to get Bailey his first license.  Armed with a license, some Berkeley Gulp worms and pint of red maggots we hit the river for an hour and a half.
My old spot from a few years back was completely devoid of fish despite some heavy loose feed. We quickly moved on to my other special spot from those years ago.
After setting up for the little man and popping half a gulp worm on a size 18 he was twitching away and BANG. He had a pretty nice Brown trout on. It got air 3 times and I was dreading it coming off.
Safely with the net under it and a huge high five from Bailey the photo was taken and the fish went on its way seconds after being landed. It was nice to see Bailey returning it so gently. Top lad!
A few casts later a bigger one was on the line. Bailey shouting "I can feel it pulling" I was wondering if he had hit a salmon or sea trout. It was another Brownie.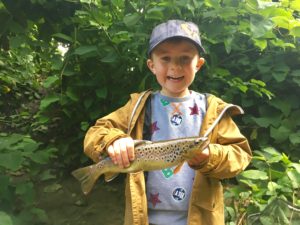 Safely in the net Bailey was really excited. After a photo he was about to return it as gently as the last one and it flipped hard biting a little slice in his finger. His first blood right as I took the photo. Poor kid was crying like his arm had been bitten off. I quickly returned the fish and after some time to recover it swam away safely while Bailey whimpered in the background.
The swim was killed after this so we moved on.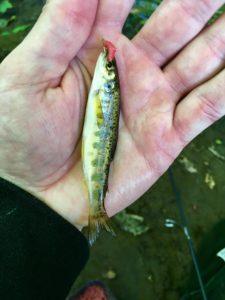 We had another two fish (daddy's smaller than his middle finger) and decided to call it a day after only an hour and a half.
The following day we hit the tackle shop to get some more maggots and headed back.
A much faster start today with a good few trout making an appearance. Nothing massive but the fish were making an appearance.
After half hour the swim went quiet. It was time to move. Bailey was getting bored.
We went back to the swim that was quiet the day before and the bites came thick and fast. Tiny finger sized trout were flying in. There were plenty of bites but we were missing them. Bailey was never going to keep his attention at this rate.
I knew of a swim a couple of miles downstream. But it was a rough trek. I was determined for Bailey to get a Grayling so after some whinging he agreed to walk it.
Across rough ground, over streams, past wild honey bee nests, through brambles and nettles we finally arrive at a steep swim with a small bunch of tree roots as a perch.
I lowered the float setup directly under the rod tip to see what it was going to do and BANG! Grayling on before I could hand the rod to Bailey. He was fascinated by the huge sail of a dorsal fin.
After a quick change of maggot I got Bailey positioned and he lowered the float and bait it. Instantly it was smashed and another Grayling was in the net. Howling with excitement Bailey proudly posed for his picture. Mission accomplished.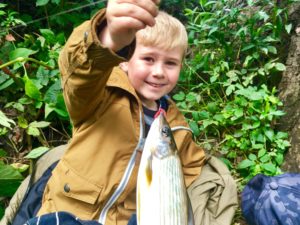 Next cast again! Another bar of silver in the net, and another, and another…
Then the tree claimed our float. Having lost all our floats we went back to basics. A hook and a BB shot a few inches up.
The change of technique sparked a new repeat attack of bites. Bailey was like a kid in a sweet shop. Fish after fish graced the net. When the Grayling shut off the trout continued!
After 4 hours we decided to call it a day. After a quick video interview of the newly discovered Angling super star he posed in the grain field with the tools of his new trade. He was one very happy chappy.
He's got the fishing bug and is already asking when we can go back!
It brings a great sense of satisfaction seeing your boy absolutely smashing it on the same stretch of river that used to stomp in my 20's. He's done better than I ever did and he's just five years old. Move over Matt Hayes.
Next target species, Chub.
Kevin Jordan.