METHOD FEEDER FISHING
By Anthony Wood
People quite often assume that because I own
Homemadeboilies
that I only fish with boilies. However, I also make my own particle mixes, groundbaits, method mixes and many more things.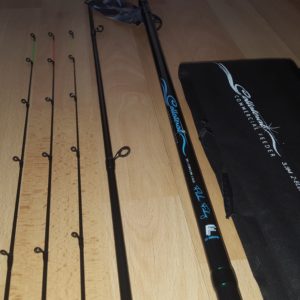 In this article I'd like to take a closer look at method feeder fishing. The first thing you need for feeder fishing is a feeder rod, now you can spend an absolute fortune on rods but my favourite by far is the
Fladen
Collateral Commercial Feeder Rod.
Why is this rod my favourite rod? Well it is strong enough to handle the average commercial fisheries carp (12lb is my biggest so far on it) but it also has a soft enough action to make it enjoyable playing the smaller species that may decide they like your bait. It has a shorter butt section which makes it easier to move it around when your doing the feed, cast, feed technique most associated with feeder fishing.
It is well built, very good quality with 3 interchangeable tips and has a line rating of 2-8lb. It also falls in very well with the Fladen ethos that "ANYBODY CAN FISH!!!" by providing a good all round feeder rod at a price that most people will be able to afford and that is suited to beginners and more experienced anglers. Find it on Amazon here –> 
http://amzn.to/2vvGwvv
I usually pair this up with a mini bait-runner loaded with 6-8lb mainline, just in case I get a bigger fish that I need to let run quickly.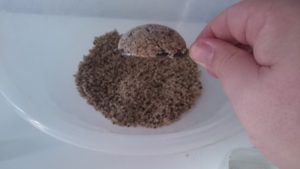 There are lots of great method mixes out there readily available straight off the shelf but I love to make my own and below are my two most successful method mixes one for if I'm fishing with a fish or pellet based hookbait and one for if I'm using sweeter hookbaits like sweetcorn, maple peas, etc.
My favourite method bait though is small luncheon meat balls I make with my bellballcutter.
First up is the fishy method mix…
50% Fine Breadcrumb
20% Pallatrax Fishmeal Base Mix
15% Haith's Crushed Hemp Seed
15% Spottedfin Halibut Supercrush
Now the sweeter method mix…
50% Fine Breadcrumbs
20% Pallatrax Multiworm Base Mix
15% Haith's Crushed Hemp Seed
15% Lactalbumin
For both of these method mixes I use the same liquid mix to make them up and that is…
50% Water
40% Molasses
7% FeedStimulants Liquid Fruit Amino Compound
3% FeedStimulants SuperStim
You could also use small pellets to make a method mix and that is done by filling a large maggot box half full of small pellets, pour boiling water over them and allow them to soak for 2 minutes. Now drain them off and they should stick together nicely on the method feeder.
Okay so how do you fish the method feeder? There are several types of method feeder out there but by far my favourite is the inline flat feeder (I used to love the elasticated method feeders but a lot of places are starting to ban them as they are fixed in place) so I will concentrate on that one.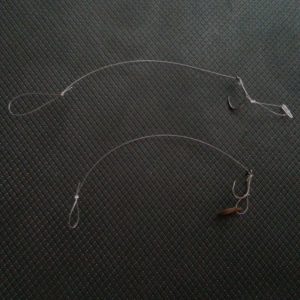 Slide your method feeder onto your mainline with the thinner side of it going on first, now you will need a short hair rig of around 3-4″ and on the end of the hair either a small bait band or a
korum quickstop
depending on if you are using a hard or soft bait.
If you tie a size 10 swivel onto the other end of the hair and then tie that to the mainline, you should find that the swivel fits just snugly enough to give a bolt action effect to the rig.
Depending on which method feeder you purchased you could have got a mould with it. These make loading the method feeder so much easier. There are two ways to load the method feeder the first is to place the hookbait in the middle of the mould, fill the mould with your chosen method mix and then press the method feeder down firmly on the top of the method mix with the weight facing you.
The second way to load the method feeder is to put a layer of your method mix in the mould, then place the hookbait in the mould, fill the mould with your method mix and again press the method feeder down on top. This method buries the hookbait slightly and makes the fish work harder for the bait, good for if bites aren't coming quickly as it encourages feeding.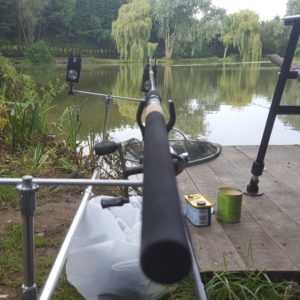 Cast your method feeder out and remember where it landed as you will want to get roughly the same area each time you cast out to build swim up. Tighten your line up until the tip just starts to bend.
Now it's time to sit on your hands, you are hopefully going to get lots of little knocks and twitches on your rod tip as the fish peck away at the method mix. Wait until your rod tip swings right round before lifting into the take.
For the first hour you will want to try and recast about every 10 minutes but once the fish are biting start to time how long it takes to get a bite and go by that. If the fish are biting every 5 minutes recast every 5 minutes you don't get a bite if they are biting every 10 minutes, well you get the idea.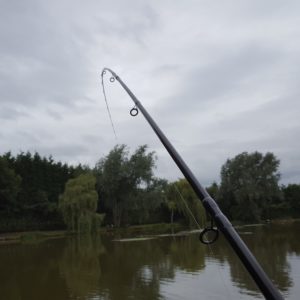 The Fladen Collateral Commercial Feeder Rod really is a rod where you get more than your money's worth.  The rod has a nice soft action that prevents the fish pulling the hook if they make a run for it but at the same time has enough backbone to help you steer them away from the reeds that in the margins that the fish always want to dive into.
The rod is sensitive enough to register even the smallest fish but lets you enjoy the fight whatever size fish you hook into.
Method feeder fishing is one of those style of fishing that is so enjoyable but it seems to get lost in modern fishing as most people these days want to have 3lb rods and try to catch huge carp.
If you get chance, I highly recommend just going back to a simple relaxing way of fishing and just for a session or two forget about those giant beasties and enjoy fighting the smaller fish for a change it might just make you enjoy your fishing more.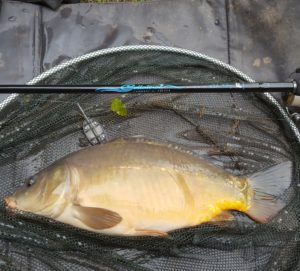 I managed three small carp which considering I was only out for about 3 hours was very enjoyable on a hard day.
If you fancy giving feeder fishing a go, I can personally recommend this rod as it really is value for money and a brilliant bit of kit.
Guru Reaper Multi Positional Specialist Feeder Rest
2 new from £12.29
as of 18th January 2021 3:28 pm
Features
| | |
| --- | --- |
| Part Number | GRPF |
| Model | GRPF |
| Color | Default |
| Is Adult Product | |
| Size | Front |
2 x CKR30 Black Fishing Reels Loaded with 6LB Line For Coarse Match Lake River
8 new from £16.55
as of 18th January 2021 3:28 pm
Features
2 x Fishing Reel Pre-loaded with 8lb line
Ideal for a number of different fishing methods, from float & feeder fishing for small carp to spinning on the rivers for trout and game fish.
Rear drag reel
- Line Capacity (mm/m) - 0.25/245, 0.30/170, 0.35/125 - Line Capacity (lbs/yds) - 6/270, 10/185, 12/135
Made By NGT
Fjuka 2in1 Bait - 3 bag pack white, yellow, red. The soft feed pellet that's a perfect hookbait.
as of 18th January 2021 3:28 pm
Features
This feed pellet is also the perfect soft hookbait.
Hooks perfectly with total hook-hold - no need for drills, spikes or bands
Sensate Attractors for instant action
Combines, molds and shapes to any form
Imitates worms, maggots, corn, bread etc
Everpert SAMS 20 X Quick Change Beads Camo Hooklength for Carp Fishing Feeder
2 new from £5.49
Free shipping
as of 18th January 2021 3:28 pm
Features
Ideal for bomb and carp feeder fishing
The connector bead is ideal to quickly change hook lengths / hooklength
It also acts as a buffer bead / shock bead when used in conjunction with a swimfeeder
Perfect running and stillwater using swimfeeders or ledger weights
When used it can be made without any the traditional metal swirl and also tie a knot
TFG TF GEAR COMPACT ALL-ROUNDER ROD
as of 18th January 2021 3:28 pm
Features
any water with any technique, with just one rod!
light feeders on lakes: just the job
heavy wagglers for carp: you bet
delicate float fishing for silver fish: this rod does the lot
Supplied with 3 quiver tips + extension section for 8 to 10ft conversion