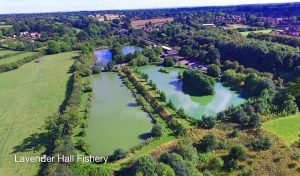 Yesterday Anthony went to Lavender Hall Fishery for a days fishing, he had looked at going on to the specimen pool which has carp running to 29lb in it however it wasn't available until the afternooon and having arrived at 7am didn't fancy waiting until about 2pm for the specimen pool to be free.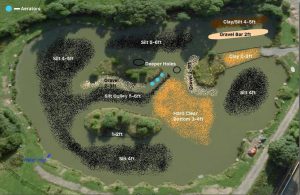 Looking at the 4 general lakes and speaking to the owners Oak lake looked like an option but the carp had just started to spawn and the owners (rightfully) close a lake down if the carp spawn so that lake was out.
The carp had already spawned on the other three lakes so they were all an option, the great thing about the general lakes is that they all have a selection of coarse fish such as bream, tench, perch, carp, koi, roach and rudd with the carp averaging 6lb  tench touching 5lb and perch to over 3lb.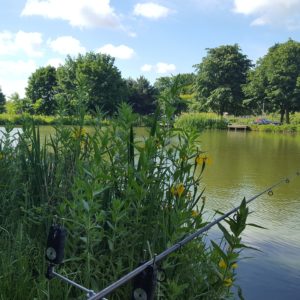 Anthony decided to give Bens lake a go which has a selection of carp, koi, roach, rudd, bream and perch with the chance of a carp around the 15lb mark being a possibility.  The day ticket cost £8 and fancying a go for the perch Anthony also bought half a pint of Willy Worms red maggots from the tackle shop which cost £1.70 on top of all the bait Anthony brought with him.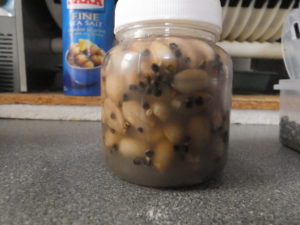 Normally if you want to use tiger nuts, peanuts or any other form of particles you will need to either bring your own branded tinned particles such as Dynamite baits, Bait-Tech or other top brand product (or you can purchase from the onsite tackle shop).  This time however with Anthony having nearly 30 years of bait making experience and working with some top brands in the business the owners allowed him to use some Haith's hemp and peanuts that he had prepared himself.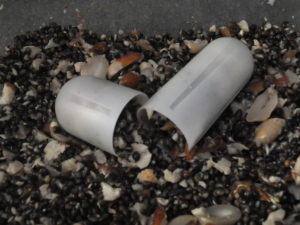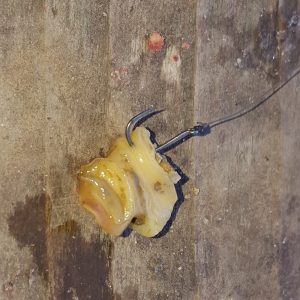 Setting up Anthony used a carp rod with a standard hair rig setup and 3 peanuts on the hair with a small PVA capsule of hemp and peanuts to give a nice attraction around the hook bait.  The second rod was a Korum float rod with a waggler float and size 14 hook and the plan was to use Pallatrax Hidra snails and water mussels on the hook to start with whilst feeding a few loose maggots over the top and then later on try 3-4 red maggots on the hook to try and tempt any wary perch that may have been in the area.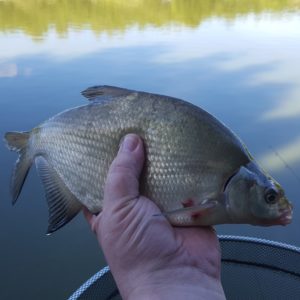 The day started out with a missed run on the carp rod so it was looking good that they liked the peanuts, then the float had a little twitch before shooting off under the water resulting in a nice little bream.  This was followed by several more bream so they obviously liked the rehydrated snails from Pallatrax.
Over on the carp rod there was another quick run but it was dropped before Anthony had chance to lift into it so the bait was reset and left for the capsule to dissolve (takes about 20 minutes to fully dissolve but leaves not only the freebie food but a great attraction of salt from the actual capsule).  In the meantime the float had shot off again but this time it resulted in a nice small mirror that fought much harder than it's size.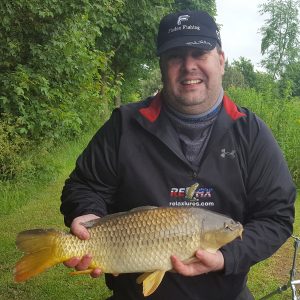 The carp rod erupted into a screaming run and this time Anthony was into his first slightly bigger carp of the day resulting in a very nice common carp of around 8lb (none of the fish were weighed as it was all just about enjoying the day), which again gave a brilliant account of itself.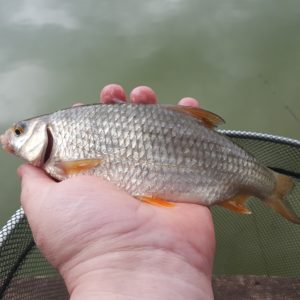 Switching over to the red maggots Anthony did manage a small perch of around 3oz but the bigger ones were jusst not playing.  There were plenty of roach and rudd that wanted to attack the maggots though.
It just goes to show that you don't have to catch huge fish to enjoy a days fishing and shock horror you don't always have to catch carp to have a good day.
When Anthony arrived at Lavender Hall he was expecting to see another fishery which had several holes dug in the ground and not much else.  However upon arrival he was pleasantly surprised to see that the ground surrounding the lakes had been well maintained there were trees and wildlife galore and the lakes had even had the pegs lovingly prepared into proper pegs.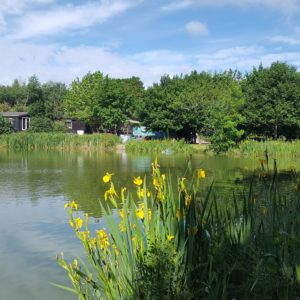 The tackle shop was small but well stocked with a selection of all of the top brands you'd expect to see in a tackle shop, the cafe which has it's own Facebook page looked well cared for and was clean and presentable although Anthony had brought his own food so didn't use that facility this time.  There is an onsite clean and well looked after toilet as well as bins set all around the lakes so there is no excuse for leaving any litter behind.
This is a great example of how a fishery should be run, the only negative Anthony could say about the fishery is that it is a shame there is a ban on surface baits as most of the bigger fish were taking debris of the surface and there could have been some great sport from catching these stunning looking fish that teased the anglers all day swimming past on the surface.