ANGLER'S MAIL magazine this week brings you exclusives… and at just £1.99 for the print issue, you cannot afford to miss it!
Read the Mail's new series 'The Art of Angling' by ace artist and specialist angler Chris Turnbull. It's his stunning artwork of a leaping carp on the front cover… a real collector's edition!
The British record carp, The Parrot, has sadly died. Read our tribute including an exclusive eye-witness account from the angler who found this epic fish.
Steve Collett, the unique Angler's Mail columnist, tells you how to fish for bites – NOT bragging rights!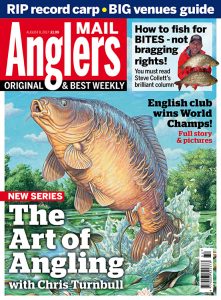 The BIG venues guide in Angler's Mail magazine is essential reading too. It's by genuine regional experts.
Also inside your Angler's Mail magazine this week:
England club are crowned World's best

Giant barbel after rain – and other big catches

Darren Cox proves practice pays off

Jamie Londors' double carp success

Colin Davidson on carp reel line clips

Correct fish handling with Dr Ian Welch

Big carp on pellet wag with Tony Ashbolt
DON'T MISS  THIS ISSUE OF AM PRINT MAG!
The must-read Angler's Mail print magazine is out now and just £1.99. Accept no substitute. It's also available digitally.
Get yourself a subscription to Angler's Mail print magazine at a great price – visit www.anglersmail.co.uk to subscribe and SAVE!