ANGLER'S MAIL magazine this week brings you exclusives… and at just £1.99 for the print issue, you cannot afford to miss it!
Revealed in the mag this week: 'The depths fish really feed at.' Dr Ian Welch explains all!
Find out how the Environment Agency swooped on illegally stocked catfish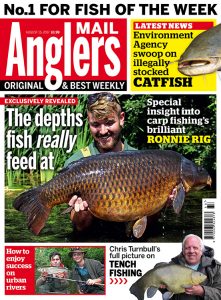 Ace artist and specialist angler Chris Turnbull shares his full picture on tench fishing today.
Also inside your Angler's Mail magazine this week:
Save our barbel – why the species needs help

Rod licence line cut by the EA

Alien salmon arrive in UK

Big match news: World Clubs U-turn

Lee Kerry's insightful World Champs diary

Colin Davidson shares thoughts on the brilliant Ronnie Rig

Angling Answers – including top chub tactics

John Bailey gets out with his favourite 'go-to' methods
PLUS the best Where to Fish weekly guide in angling – by genuine regional experts!
The must-read Angler's Mail print magazine is out now and just £1.99. Accept no substitute. It's also available digitally.
Get yourself a subscription to Angler's Mail print magazine at a great price at www.anglersmail.co.uk