THE must-read new issue of Angler's Mail print magazine is in shops today… with a special cover by guest writer/artist Chris Turnbull.
Be sure to read the Mail's exclusive coverage of Britain's biggest ever brace of coarse fish – and also the next national record carp!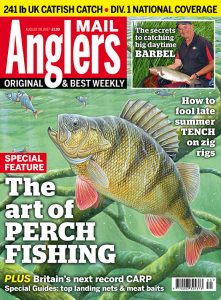 There's big match coverage of the Division 1 National and the £50,000 jackpot Golden Reel Final.
Top features inside this issue of the Mail include:
– Great guides to landing nets & meat baits
– The art of perch fishing
– Secrets of catching daytime barbel
– How to tempt tench on zig rigs
PLUS columnists that really have something to say… such as Steve Collett, John Bailey, Dr Ian Welch, Lee Kerry, Dave Coster, Billy Flowers & others that are only in the Mail.
… and lots more exclusives!
This new AM print magazine is in good newsagents and supermarkets, priced just £1.99.
Get yourself a subscription to Angler's Mail print magazine at a great price to ensure it's delivered to your door every week – visit www.anglersmail.co.uk to subscribe and SAVE!