ANGLER'S MAIL magazine is loaded with print exclusives… and this week brings you a NEW exclusive series, Chris Yates's Summer Fishing.
TV's Monster Carp series won rave reviews for its first series, and in the week of series 2 beginning, Angler's Mail brings you essential insight.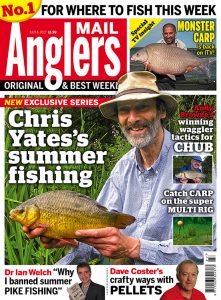 Also inside your Angler's Mail magazine this week:
Giant dead fish mysteriously in bin bags

Anglers on why the UK's really on 'Jaws alert'

World Feeder Champs special coverage

Steve Collett hails The Chub Master

John Bailey – do artificial flies hold the coarse fish key?

Andy Browne's waggler tactics for chub

Dave Coster's pellets advice

Plus Jamie Londors, Colin Davidson, Dr Ian Welch, Matt Sparkes, the ace AM Where To Fish team…. and many more exclusive must-read columnists.
DON'T MISS IT!
The must-read Angler's Mail print magazine is out now and just £1.99. Accept no substitute. It's also available digitally.
Get yourself a subscription to Angler's Mail print magazine at a great price at www.anglersmail.co.uk