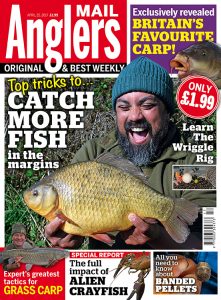 THIS week's print copy of Angler's Mail magazine exclusively reveals Britain's favourite carp!
Andy Browne, the Mail's ace all-rounder, shares his top tactics to catch fish in the edge. You'll boost your catches, for sure!
Also inside the must-read Angler's Mail magazine this week:
Angler's eyeball shattered

Otter-eating proof

Dick Clegg match fishing outburst

Steve Collett re-discovers 'fluff-flinging'

Learn Colin Davidson's Wriggle Rig 

John Bailey seeks Tinca Treasure

Banded pellet insight with Lee Kerry

The best Where To Fish – it's by regional aces!
The big value Angler's Mail print magazine is out now and just £1.99. It's also available digitally.
Get yourself a subscription to Angler's Mail print magazine at a great price – visit www.anglersmail.co.uk to subscribe and SAVE!