***QUEEN OF ESSEX!***
Carp-Talk 1185 is available to download now from pocketmags.com/carp-talk-magazine#57595d02e03f4 and in shops Tuesday.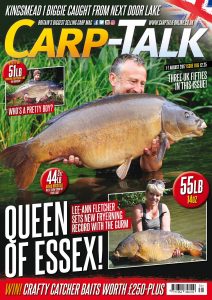 We have got some fantastic stories in this week's magazine, including a new Fryerning record, caught by a lady! Also, we tell the tale of the 43lb 10oz Kingsmead 1 mirror that has been caught in the neighbouring lake. We've also got fifties from Holme Fen and Wintons, and reveal details of some sad news for the Carp Society.
A change of rig leaves Steve Briggs of  Nash Tackle asking himself a few questions, and Toby Claydon of DNA Baits experiences a bipolar session on Chilham Mill. John Kneebone of Mainline Baits tries to adapt to the ever-changing scenarios that carp fishing presents, and Ignace de Roeck of Solar Tackle enjoys an outstanding first trip of the year on a low-stock Belgian syndicate water. We review the second, third and fourth UK Carp Champs Pairs semi-finals, and products from The official Nash Tackle page, Vass Waders & Rainwear, Life Systems, Fox International, DNA Baitsand Pallatrax go under the spotlight.
We've got a load of goodies from Crafty Catcher to give away, and the The official Nash Tackle page monthly winners are announced.