Anthony went to Hoar Park Fishery yesterday and armed with a selection of bait went on to Daisy's pool which has a selection of catfish and carp in the lake.
When he arrived there was already two people set up and fishing and although one of them had caught a couple of fish during the night, there hadn't really been any action with the weather being too warm for the fish.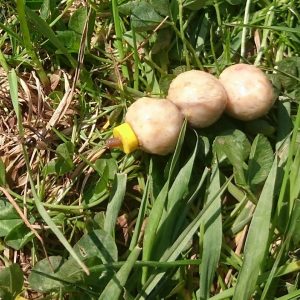 There were a lot of carp swimming around on the surface which would make most people want to surface fish for them, on this lake though if the fish are on the surface swimming in groups then they are more interested in sunbathing than eating and will be really hard to catch.
Anthony still gave it a try but as he expected the carp were not interested in the slightest.  It was over to plan 'B' which involved legering round luncheon meat balls made using the bell ball cutter and then soaked for at least 24 hours in BaitTech polony oil.
Within an hour of setting the traps off roared one of Anthony's two rods and as he lifted into it, the line went slack and the fish had spat the hook.  That was it for the next couple of hours with only a little movement on the bite indicator to say there were fish in the area.
No-one else had been catching and everybody was just enjoying the sunshine although as you can see from the photo Anthony forgot his suntan cream and and baseball cap (good job we knew he was fishing lol).
Then Anthony's right hand rod indicator shot up and it was fish on, instantly he could tell it was a catfish as although the carp fight well in the lake they don't fight anything like as hard as the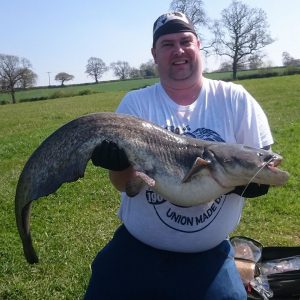 catfish.  For the next 10 minutes it was a tug of war between Anthony and the catfish but eventually Anthony guided the catfish into the waiting net that his friend Gary was holding at the ready.
Because it was so hot and the sun so bright, the fish wasn't weighed but it is roughly 17-18lb as it is one Anthony has caught before.  A quick photo and the fish was rested in the edge before it swam off back into the depths of the pool.
There was another aborted run after about 30 minutes but unfortunately that was it for the day.  No-one else on the lake had even had a run so it was a good result on a very hard days fishing.
The fishery details if you fancy popping along yourself are…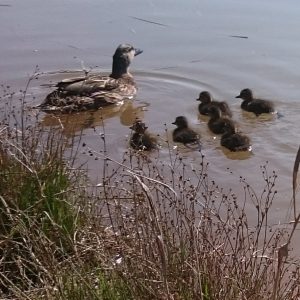 Hoar Park also has an onsite garden centre, restaurant, children's farm, artist plus other shops as well as five lakes/ponds that contain a wonderful and varied range of species.
Hoar Park Fishery
Nr Ansley,
Nuneaton,
CV10 0QU
Open 8am till dusk.