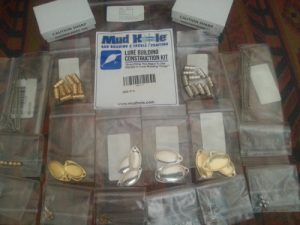 Mud Hole a large custom rod and tackle crafting company in America offering everything from lure building kits to rod building kits and much more.  If you have ever fancied making your own spinners they do some fantastic lure making kits including this "French Blade Spinner Kit".  Anthony has previously written this guide but there may be new people who haven't seen it and it is a fantastic feeling catching a fish on something you've have yourself so we thought we'd repost the article.
The French Blade Spinner Kit which will allow you to make 20 spinners/lures and upon opening it you will be presented with a well packaged product with different pieces being in their own individual bags.
Laying out all of the components you will see that it is all top quality stuff with no rough edges or faults.  You will also need two pairs of long nosed pliers in order to bend the wire stem.
The first thing to do was twist the wire stem so that it had a closed loop, Mud Hole leave this open in case you want to attach a swivel, trace or other item to the connecting end.  Thread a bead onto the stem.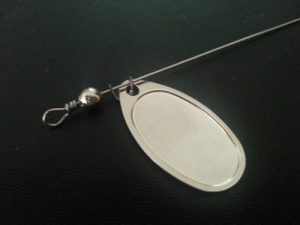 The next step was to put the spinning blade onto the c shaped attachment and slide it onto the stem making sure the top of the blade was facing the closed loop.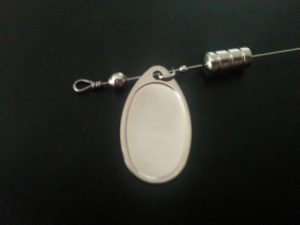 Thread another small bead onto the stem, followed by the weighted body.  Finally thread another bead on then twist the end of the stem sliding a size 6 treble on before twisting the end of the stem around itself to create another closed loop.
Making spinners isn't as hard as people think and making these spinners is extremely easy especially with Mud Hole putting all the components conveniently into a kit.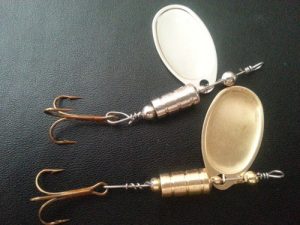 Obviously with practice you will be able to create more refined lures but for now give these a try and get out and try the spinners you make.
Okay now down to the nitty gritty how much does one of these kits cost?  Well would it surprise you to find out that the cost of this kit including delivery from America means that each lure costs you just over £1 each to make!!!
Final thoughts on this product and company… The customer service is fantastic, the product is extremely good quality, delivery considering it is coming from the US was within 10 days (faster than some UK deliveries lol).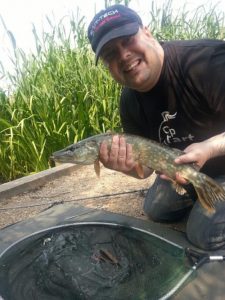 If you order a kit we hope you have lots of fun and mind your fingers as the hooks are flipping sharp and they're barbed 😉
To contact Mud Hole Custom please use any of the following methods…
Website: www.mudhole.com
Facebook: www.facebook.com/mudhole
Twitter: @MudHoleTackle