Solar Tackle team member Thomas Mascha has landed this impressive 54lb mirror on a day-only session.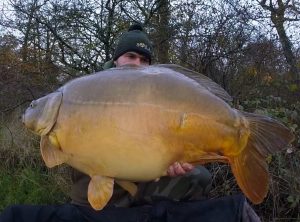 Arriving early in the morning to an area he'd prebaited on a local gravel pit on northeast France, Thomas spodded for 1 hour, laying down a bed of crushed and whole Solar Candy Floss boilies and particles, all of which he'd soaked in Candy Floss Mega Big Shot Liquid.
Presenting a Candy Floss snowman rig over the top the only take of the session came in the early afternoon and, after a heavy, plodding fight, this big mirror rolled into Thomas' waiting net.