11 Apr 2017
Near 50lber for Solar Tackle tester
Solar Tackle fieldtester Peter Zyla has kicked off his spring season in style with this awesome 46lb 9oz common.
Peter explains: "Outside the lovely, spring sunshine is shining, but this early in the season the water temperatures are still low. My target water is a shallow pit and so the weather affects the carp very quickly. Although the sun was shining, the temperatures were quite low for a few days, followed by a cold, easterly wind.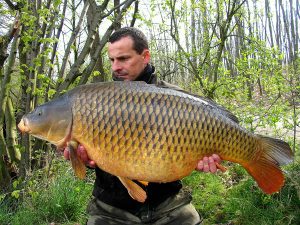 "Once the cold wind had died off though, I put my plan into action.
With the sun warming a particular, sheltered area of the lake in the morning, I headed to the lake in the early hours to be in prime position for dawn. The water here is a little deeper, and I presented Solar's 14mm TunaMino test boilies and a Pink & White Top Banana pop-up over the top.
"In the early morning in the first rays of sunshine I got my first bite of the year.
As soon as I picked up the rod I knew it was a decent fish. As the fish neared the margins, in the clear water, I saw the golden scales of a big common. As the fish slid into the net I was thrilled, as I knew I'd got my season off to a great start.
On the scales the fish went 46lb 9oz."