THE CATCH ONE DREAMS OF…….. 12 fish in 7 days. 7 cat fish and 5 carp.  How and where ?  Read on.
We visited Le Val Dore in France, from 28th April to 6th May; it was our belated honeymoon.  I have been there several times, the second time for my husband, who on his first visit last year, landed 6 fish, where I lost an extremely large sturgeon.  Arriving on time, we set our rods up on Lake 2, Peg 11.  I chose to fish the open water, but have a rod down the left margin.  Kevin chose the right hand side of the double swim, and kept all 3 rods close to the margin.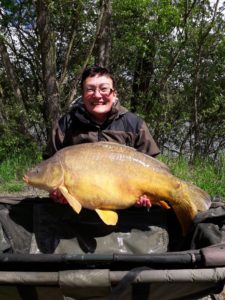 Over the week I used different hooks, sized 4,6 and 8, wide gape, choddy and gripper, all supplied by AW Tackle.  I did not need to renew a hook due to bluntness, I just fancied a choice of hook.  We make our own baits, so I did my normal and did what I wanted to do.  So I used one 18mm boilie on all 3 rods.  On a short hair rig so that the boilie just sat on the bend of the hook. 12lb mono line, with rigs varying from 8 to 10inchs in length.
South Westerly winds were regular which helped as it was pushing into our swim.  It rained only 2 days, and when the cloud lifted and the sun came out it was very warm.  We had cooked some particle and took over 30kgs of boilies; as we had discussed that we would bait heavily with particle and boilies on first arriving and top up daily using the bait boat …… Did we heck!  I again did my normal, "I did it my way".  So no particle, no bait boat and lets just catapult boilies over a scattered area.  Did it work?  Oh yes it did.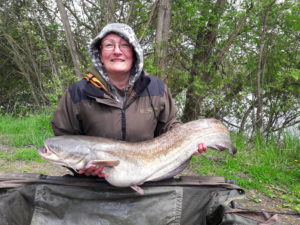 I've never caught a catfish in my life and never on a carp set up.  But on 29th April around 4.30am I landed a 9.12lb cat (my PB), size 4 choddy hook and as I said before, a single boilie.  30th April at 5.43am I upped my cat weight to 12.4lb, size 4 gripper hook.  1st May in the early afternoon, I hooked into a fish, the fight was frightening, I was sure I would lose the fish, instead I landed a 20.10lb cat (new PB).  Then at 2.47pm I was graced with a carp, the reason I fish, a lovely 34.4lb mirror, size 6 wide gape.  Could it get any better, I was so happy. Then at 5pm the same rod rattled and the line tore off, after so many cats I thought another one, but no, a wonderful 47.2lb mirror (new PB mirror).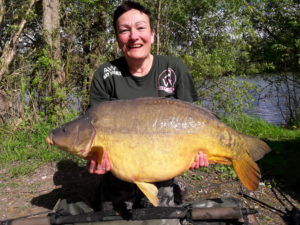 On 2nd May using a size 4 gripper hook, with no fight at all I landed an 8.3lb cat at 3.41am.  Are all cats night feeders I wondered?  No …. As I was doing breakfast on 3rd May, my middle rod practically took off.  After a 14 minute fight I netted a whopping 31.8lb cat (new PB).  My arm hurt and the bruises I sustained!  So they do come in the day.  Well, Im now Cat Woman, 5 cats to my rods.  Then at 4.45pm an elegant 23.6lb common, to a size 8 hook graced my net.  The 4th May, in the evening, produced a lengthy 28.6lb mirror to an 8 wide gape hook.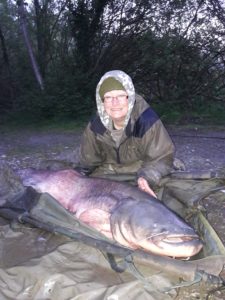 Only two days to go before going home, could I catch any more?  The morning of 5th May gave me a tender 22lb mirror, followed at 3.27pm by a 31.12lb cat, on a size 8 wide gape, the newest cat PB.  I thought it a ritual only to put my rods out on the last night, with no expectation of being woken at 5am to a screaming reel, and catching an 87.4lb cat that took 47 mins to net.  Using a Sonik SKS 12ft rod, 2.75lb test curve, with a Sonik Tournos 8000 reel (thank you Sonik Sports for such great, flexible rods).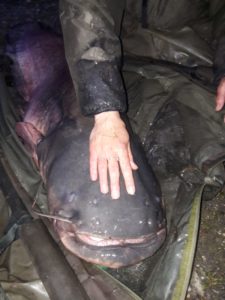 Now that's definitely my PB.  
Do not believe that cats will not come to carp boilies or that you will never land a heavy cat without the right rig set-up. I'm a carp fisherwoman who landed 7 cats, using a carp set-up.  All because the rod was good and the rig correctly put together and well presented.