Take a look at these two 40lb beauties. Solar Tackle team member Thomas Mascha has landed both in a single, day-only session.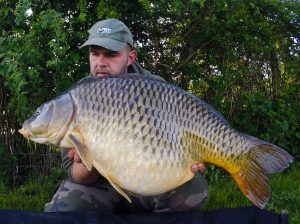 Having pre-baited an area on a big, local gravel pit near his home in northeast France Thomas set out to target the spot for a single day due to work and family commitments.
Arriving at the lake a spread of prepared particles and Solar's Candy Floss boilies, all soaked in Hot Scottish Salmon Oil, were put out over the area.
A simple fluorocarbon hook link with a size 4 Stronghold 101 hook and Candy Floss bottom bait was positioned over the baited area.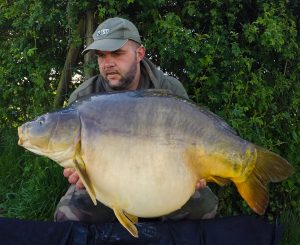 A strong, heavy fight followed the first take of the day, just a few hours in to the session. A chunky common was the culprit, which tipped the scales at 40lb 10oz.
The middle of the day passed without event before the second take came in mid afternoon. Following another slow, plodding fight Thomas slid the net under his second forty of the day, a 40lb 14oz mirror.