THE 1ST WINNER FOR FISH OF THE WEEK 2017 IS…
Craig Fisher who smashed his Personal Best with a 46lb 2oz Mirror from the Kracking Carp Lake!!
Craig's Story –
"I decided to give the Kracking a go, hoping to catch one of the big carp and land a personal best! After seeing fish around the island, I decided to move up the other end of the lake. I cast out a foot from the island and just 15 minutes later it went off!
I couldn't believe my luck – a whopping new personal best! A great start to a fantastic week. I celebrated well in the Bar after the Wine and Dine Night that's for sure and even won the raffle twice!! A fishing moment I will never forget!"
Craig used a snowman rig with a Bait-Tech triple-n boilie topped with milky toffee pop-up.
Craig's luck didn't stop there either! He also caught a Personal Best Catfish from the Specimen Cat Lake 37lbs 12oz!! Caught on a halibut boilie topped with pink stink pop-up.
WELL DONE CRAIG!! GREAT 1ST FISH OF THE WEEK FOR 2017!!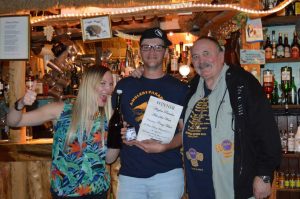 Here he is with his Winning Fish and being presented his prizes by Zyggy and Zenia.
#WellDone #Winner #Carpfishing #anglersparadise #winning #fishoftheweek
FISH OF THE WEEK IS SPONSORED BY BURTON BAIT ROLLERS LTD, THE BAIT ROLLERS OF OUR FANTASTIC PARADISE BAITS.
Also Available on Amazon