48-hours on the Waesmere syndicate in Belgium has seen Solar Tackle team member Alain Servaes enjoy 7 takes, with a 32lb mirror and a true 'old character' fish tipping the haul before ending the trip in a heart-stopping fashion as he put Solar's Originals Club Mix boilies to great use.
Alain explains: I arrived at the lake on Monday evening to be told that there had been a social on the lake for the past 3 days and from the 11 angler only 3 carp were caught. The lake can be very tricky nowadays and so I planned to try something a bit different. Most fish at range, and so I was going to target some margin spots.

I positioned two rods on two clear areas in the margins. Hook baits were Originals Club Mix boilies and matching freebies were spread over both spots too.

At first light came the first bite. A crazy, close-range battle resulted in a 32lb mirror… what a start!

The day passed quietly until dusk when one of the rods ripped off, but within seconds the fish had found its way in to some sunken trees and it was game over. I topped the spot up with more club Mix boilies and an hour later the same rod was away again. It wasn't the biggest carp in the lake at around the mid twenty mark, but it's certainly one of the oldest and a great character.

In a repeat performance the following day passed without event. With the onset of evening the rain started to fall heavily. Almost the moment the rain stopped, a couple of hours later, I was in again and quickly landed a small common. The landing net had barely touched the ground again when the second rod tore off and one of the lake's younger stockies paid me a visit.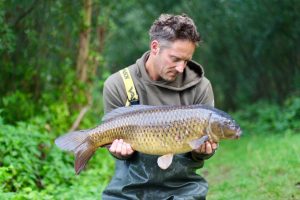 Again, the spots were rebaited with Club Mix boilies and first light brought another bite, this time from a 20lb common, which was quickly followed by another take, and another 20lb common.

Please with my result and needing to get back to work I started to pack up when I got a screaming take. I picked up the rod, but couldn't stop the fish as it tried to empty the spool. A fun, powerful fight, but the big sturgeon responsible wasn't exactly what I was after. Even so, it was a hectic way to end the session.