14 Apr 2017
Giving chum mixers an extra kick
As the weather warms up it starts to become the perfect time for floater fishing.  There are numerous methods and floats that can be used from zig rigs to dedicated surface controller floats, there are equally as many baits that you can use from humble bread through to a huge selection of artificial baits.
One of the favourite baits to use is the good old chum mixer, there are also lots of different ways to present these whether it is using superglue to attach a couple to the shank of a hook, forcing the hook through mixer leaving the point of the hook exposed or packing your hook bait in with a load of freebies into a pva mesh package.
Whatever method you use there is a great way to make your chum mixer stand out from all the standard mixers you or others will be using.
Measure out 500g of chum mixers and place them into a suitable air tight container. (this can be either a bag or a solid container such as a food storage container)
Next measure out 50ml of liquid attractor, in this instance we have used the fabulous BetaStim from FeedStimulants and pour it over the top of the chum mixers.
Seal the bag or container and rotate until all of the mixers have been given a good coating off the liquid.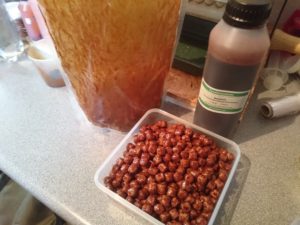 You can now either transfer them to another container or leave them in the container that you used to cover the mixers in.  Leave the mixers for at least 12 hours to allow them to soften up a little bit and they are ready to use.