My names Grayham Bonfield and I'm a vlogger.  I have a channel called GB Fishing on YouTube, I'm very passionate about fishing, one day I went to fish my namesakes pond 'Grahams Pond' in Huntingdonshire.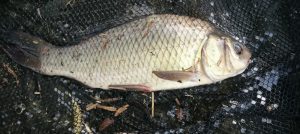 It's a giant pond/lake within a giant bowl below hills so the wind barely affects the fishing, which is nice as I don't know about you but wind ruins fishing for me at times!  I've done videos on the pond and I've caught many carp even my first ever ghost carp which was about 12lb but one day I caught the strangest of fish, (pictured left) at first I never thought anything of it apart from the fact it managed to get its mouth around a 5mm boilie, I took a picture of it, then later questioned actually what was it, it certainly wasn't a rudd or roach hybrid, so I done some searching, good old google!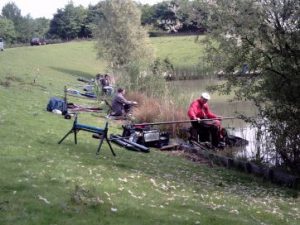 The closest I could find was a crucian hybrid but the scaling pattern didn't match this fish, you see on this fish that I caught the scaling pattern is diamond shaped but on the crucian hybrid it is rounded typical scaling, so I contacted Angling Times, they advised me it was a brown gold fish, so yet again google searching time, the images of a brown goldfish just wasn't the same, it wasn't as dark as a brown goldfish and it also didn't share the same scaling pattern!
So really to this day I'm still baffled by what it truly is, yes I admit its similar to a brown goldfish but the truth is it just is not the same, check for yourself, I think you'd agree.  So what do you think – Crucian, brown goldfish, hybrid or something else?