09 Jun 2017
Kev Parkes catches a 30lber on his own bait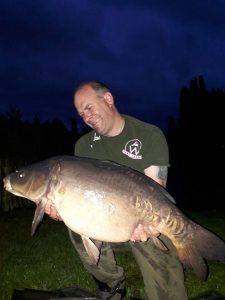 With working some strange hours of the last few days my fishing as been hit and miss. But the carp gods looked down on me and gave me a red letter day.
Trying out one of our own test baits (Kev and Ruth make their own baits) called the the monkey in conjunction with size 10 gripper hook from AW Tackle and a few baits crushed up in white band mesh stocking supplied by Westmore Pva.
My first take was a steady one soon as I lifted the rod I knew it was a good fish. After a scrappy battle she was in the net.
Happy days 30.02 mirror.  Just slipping her back and my other rod rattled off resulting in a 13lb mirror.