So last night I had a few hours down
southcarvan
. The lake was pretty quiet and only had a few anglers  during the day however everyone caught really well in the hot temperatures.
I only took the one rod down and fished on the surface with dog biscuits.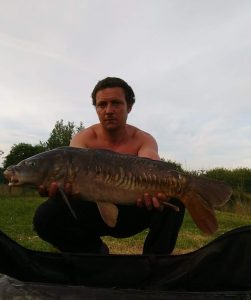 When I arrived the lad in the corner was fishing on top and most of his bait was gathered in the opposite corner of the lake ( monster mistake IMO) .
The carp were simply just sat in that corner munching biscuits as they drifted in so being  crafty I setup close to there and freelined  double biscuits on a small hair and size 12 hook .
This  was getting plenty of interest but wasn't getting any proper bites. So I decided to change over to  a single biscuit on a bait band and had much more luck instantly.
The carp are certainly on a mega munch after spawning , I can't remember the last time I seen the southcarvan carp much so confidently.
Finished on 15 fish  of the top and by far my best surface session to date .